Qualifications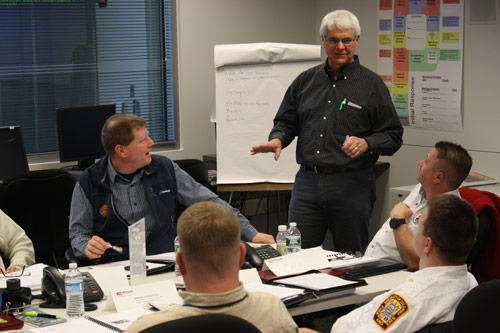 Wiland Associates is one of the nation's most experienced and premier providers of All-Hazards Incident Management, National Wildfire Coordinating Group (NWCG), and OEC Team Training courses. Our affiliates bring literally hundreds of years of practical, real-world, all-risk experience to the classroom. All Wiland Associates Position Specific Instructors are qualified as Lead Instructors according to the Five-Year NIMS Training Plan and the draft NIMS Training Plan, and are totally familiar with all of the instructional materials.
Our commitment to each and every customer is to provide a truly "All-Risk" instructional cadre of seasoned field command specialists with extensive national experience and intimate knowledge of DHS curricula. The goal of Wiland Associates is to utilize the instructional skills, experience and knowledge of each instructor to enhance your training or exercise experience and improve the overall performance of your teams.
Our success in organizing and providing engaging, top-quality training and exercises is attested to by our loyal customer base:
"However, one of the best finds I have made in assisting us in the process is the discovery of Wiland Associates and ALL they have to bring to the table. They bring one of the most real world experienced AHIMT cadres that I believe exists. This "real world" experience; coupled with the course curriculum from the USFA and EMI, not only makes for a solid learning experience, but it brings a level of understanding second to none!" —Jess, Las Vegas Fire & Rescue
"The cadre of instructors you provided ensured an exceptional instructional experience and provided a wealth of knowledge to our team. This was one of the best programs I have attended during my 30 year career" —William, Orange County Fire Rescue Department
"Your instructor cadre truly reflected the all hazard nature of the type of course it is. Usually, one would expect an all Fire cadre talking theoretically about other disciplines, but having different disciplines representing various credible agencies throughout the U.S. added to the credibility of the instruction and to the richness of the learning process." —Don, Vancouver Fire Department
"During the course, Richard and his team take charge of the audience and manage the course. Students leave the class with a sense of fulfillment and have made numerous comments about the excellent quality of instruction that has been presented. I have yet to get any negative feedback from students." —Chris, Florida Division of Forestry, State AHIMT Training and Development
"The instructors had an astonishing breadth of knowledge and were extremely engaging and experienced, and being able to provide real world examples when answering questions went a long way toward giving the training credibility". —Jesi, Homeland Security Region 3
"Just a short note to say "THANK YOU" again. 48 years in the Fire Service, 30 years teaching and going to school all over the USA, Canada, Mexico, South Africa and the UK, I've NEVER had a learning experience like your pony and dog show. It was AWESOME!!! I was wrong about you being Chrome Plated. You guys are SOLID GOLD!!!" —Dwight, Forsyth County Fire Department
Our affiliates consists of more than seventy-five nationally recognized consultants and trainers who specialize in the development, training, and exercise of Type 3 All Hazard Incident Management Teams nationally.
Every Wiland Associates EMI Position-Specific Instructor:
Has been approved through the Department of Homeland Security / Emergency Management Institute All-Hazards Position Specific Training Course Manager.
Is an experienced instructor bringing decades of field command experience to the classroom.
Possess extensive AHIMT course delivery knowledge and experience.
Is a proven educator with hundred of hours of classroom experience.