AHIMT Workshops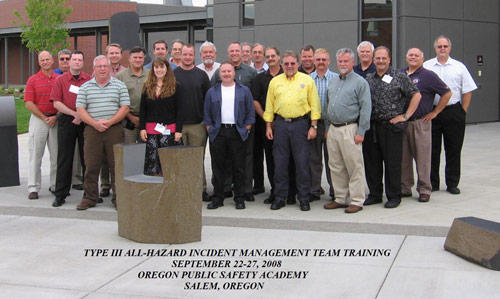 Our workshops build on the information presented in the United States Fire Administrations (USFA) six day AHIMT course and the Emergency Management Institutes (EMI) position specific training courses. Each workshop provides a unique opportunity for functional areas within the IMT to work together and improve their overall team interactions and performance.
Workshops are designed to be presented over a two, three, or four day period and can accommodate one to four expanded teams consisting of the entire Command and General Staff with selected Unit Leaders.
The workshop provides an overview of team management, functional roles and responsibilities as well as important team interactions needed to be successful. Four concurrent functional breakouts are presented and provide an opportunity for Command and Command Staff, Operations, Planning, and Logistics/Finance to discuss functional operating procedures, interactions and internal team agreements.
Each of our customized workshops offers an operational demonstration program of the various meetings involved in the planning process and the creation of an Incident Action Plan. All of the workshop components are then fully exercised during a day and a half simulation that fully tests each position and the team. The workshop closes with an After Action Review of the simulation and offers an opportunity for the individual Incident Management Team to meet and further discuss mobilization and operating procedures, formulation of team "go-kits", and future training opportunities.
Wiland Associates LLC features only the most qualified and experienced All Hazard Incident Management Team trainers. Our trainers are not only practitioners of ICS, but gifted educators capable of transferring field experience into accessible knowledge for each student.
Our workshops draw from literally hundreds of years of experience managing both national and global incidents. Wiland Associates cadre of instructors will collaborate to customize your workshop so that it is relevant to your All Hazard Incident Management Team and immediately applicable to every student.
Stop shopping for classes; let us help you plan a coordinated NIMS compliant training program.