Exercise Design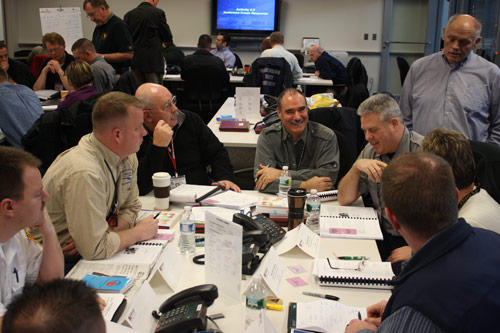 Wiland Associates, LLC and our affiliates have planned, designed, facilitated, and evaluated dozens of discussion-based and full exercises nationally. Our affiliates are fully versed and have intimate knowledge of the FEMA Homeland Security Exercise and Evaluation Program (HSEEP). HSEEP is a capabilities and performance-based exercise program that provides a standardized methodology and terminology for exercise design, development, conduct, evaluation, and improvement plans.
Our affiliates include consultants certified through the National Emergency Training Center (NETC), in Emmitsburg, Maryland as Master Exercise Practitioners (MEP).
Our commitment is to design exercises that optimize your agencies training time and resources. The national experience of Wiland Associates and our affiliates with incidents as varied as the Columbia Shuttle Recovery, Oklahoma Bombing, Seattle World Trade Organization Riot, BP Oil Spill, 9/11, Northridge Earthquake, Hurricane Katrina, and Station Fire provide each member with an unmatched combination of knowledge, skill, and understanding that delivers an exceptionally designed and evaluated exercise.
"Richard provided excellent service, engaging our emergency response personnel throughout the process. He delivered exercise experiences that not only met the needs we had expressed, but additionally, filled needs he recognized due to his years of experience in the field. Our office learned of Mr. Andring's capabilities and superior performance by recommendation from a neighboring community in Alaska. His excellent reputation for thoroughness, expertise, and customer service is well earned." — Mat-Su Borough Emergency Management Program Coordinator
"His team evaluated separate components of the exercise in an effective, fair, and constructive manner. In addition to providing evaluation services, the group remained on premises for two additional days in order to finalize their draft evaluation. Having such a quick turnaround on the lengthy evaluation document was very helpful and really put our community ahead of others in terms of after-action reports. In addition, the content of the report was excellent and all text and comments conformed to the Department of Homeland Security Exercise Evaluation Program (HSEEP) guidelines. In my capacity as the director of the Office of Emergency Management, I often encounter contractors who specialize in emergency management issues. Mr. Andring is one of the best I have worked with in the five years I have spent in this position." — Municipality of Anchorage Homeland Security & Emergency Management, Director